Community consultations launch for UK offshore wind projects

19 April 2023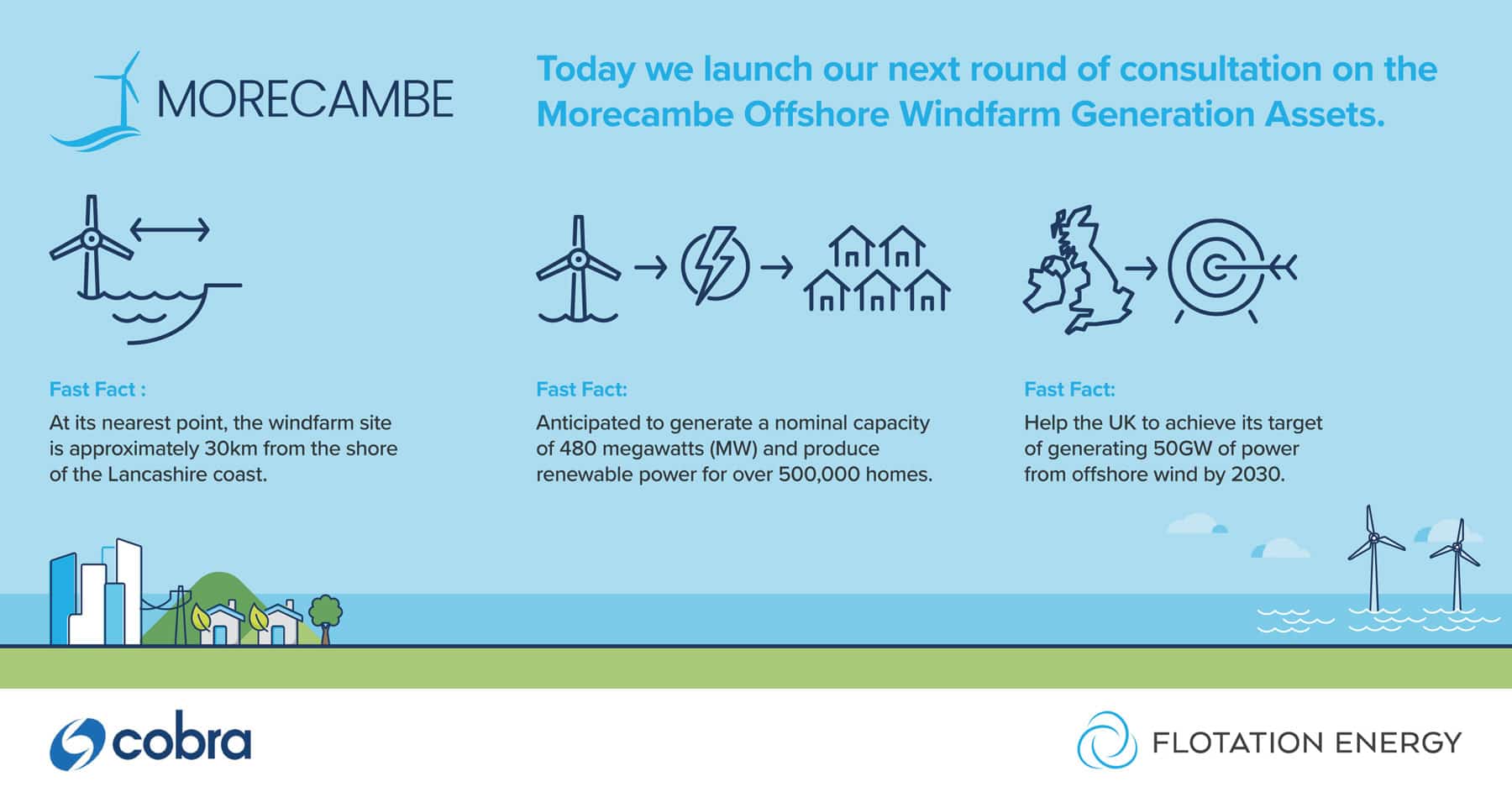 Local consultations will run for over six weeks for the Morgan and Mona, and Morecambe offshore wind projects.
Together, when operational the wind farms could power the equivalent of more than three million homes.
Community consultations today launched for the Morgan, Mona and Morecambe offshore wind farms to be located in the Irish Sea. The consultations will run from 19 April to 4 June and will be open to the local community and stakeholders.
Morgan and Mona are being developed under a joint venture between bp and Energie Baden-Wurttemberg AG (EnBW) and Morecambe is being developed under a joint venture between Cobra Instalaciones y Servicios, S.A. and Flotation Energy Ltd.  Morgan, Mona and Morecambe have potential generation of over 3GW when operational, which could help contribute to the UK Government's commitment to 50GW of offshore wind power by 2030.
Throughout May, several events will be hosted across different locations in north west England, the Isle of Man, and Wales for local residents and stakeholders to learn more about each project and ask questions. The full events schedule is available online and is open for those wanting to engage and provide feedback on the consultations or find out further details.
This latest round follows the first stage of consultations for Morecambe and Morgan that launched in November 2022. These new consultations will look at all three wind farms, including:
Full statutory consultation of Mona's transmission and generation assets,
Statutory consultation for Morgan generation assets,
Morecambe's generation assets, and a joint non-statutory consultation for Morecambe and Morgan's transmission assets.
Transmission assets are everything from the subsea cables to the onshore connection into the network- anything that brings the electricity onshore and into the grid. Generation assets are wind turbines, and anything else that turns the wind into power.
Richard Haydock, project director, bp, said: "These consultations are the next step in us delivering our offshore wind projects and supplying UK customers with home-grown renewable energy.
"bp and EnBW are working closely with Cobra and Flotation Energy to develop the plans for the wind farms, so we encourage anyone who can, to attend the events and provide feedback. We look forward to working with the community and we're excited to work with our partners to help deliver the next step in getting our wind farms online."
Although Morgan and Morecambe aim to share their transmission works, and the projects are closely linked, all three wind farms will submit their own development consent orders. The applications for those orders are expected to be submitted in 2024.
Burkhard Römhild, acting project director, EnBW, said: "Following good conversations with several key stakeholders, we are glad to see our projects now progress to the next stage, opening and intensifying the opportunity for all interested to share their views and give input for us to consider.
"We will progress our projects considering all the valuable input and balancing renewable electricity production with the protection of sensitive habitats and legitimate interests of the communities in which we will operate. We are looking forward to supplying British consumers with affordable and reliable electricity from our projects Morgan & Mona. The design of our projects as well as our cooperation with our neighbour Morecambe will help to achieve this whilst minimizing impact on the environment as well as on our stakeholders."
A spokesperson for Cobra and Flotation Energy, joint venture project partners for Morecambe Offshore Windfarm Ltd, said: "Morecambe Offshore Windfarm will play an essential part in the UK's journey to a net zero future. Collectively with the Morgan and Mona offshore wind farm projects, we have the potential to produce enough clean, renewable energy to power more than 3 million homes in the UK, as well as contributing to the security of the nation's energy supplies.
"We are committed to engaging meaningfully with the local community throughout its development. We want it to be a shared endeavour, and something of which we and future generations can all be proud. Our formal consultation will, to that end, give people a chance to have their say and to shape the approach we take to delivering it."
For the consultations on Morecambe Offshore Windfarm Generation Assets, Morgan Offshore Wind Project Generation Assets, and Morgan and Morecambe Offshore Wind Farms Transmission assets please visit: www.morecambeandmorgan.com
For the Morgan Offshore Wind Project Generation Assets consultation visit please: www.morecambeandmorgan.com/morgan
For the Morecambe Offshore Windfarm Generation Assets consultation visit please: www.morecambeandmorgan.com/morecambe
For the Morgan and Morecambe Offshore Wind Farms: Transmission Assets consultation please visit: www.morecambeandmorgan.com/transmission
For the Mona Offshore Wind Farm consultation please visit: www.morganandmona.com