Understanding the benthic environment June 2022
The Morecambe Offshore Windfarm, working in partnership with Ocean Ecology Limited, have completed the benthic ecology survey within our windfarm site. The survey included the use of imagery and sediment sampling of the seabed to allow characterisation of benthic habitats, species and potential contaminants within the windfarm site.
Taking this approach will allow us to identify the existing benthic environment in our project area, which in turn, will help inform our environmental assessment of the project and allow us to consider the environment when planning our windfarm site design. The survey is an important part of the consenting process for the project and was safely conducted without incident.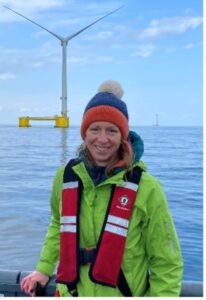 About the author
Rachel Watson is the Consents Lead for Morecambe Offshore Windfarm.
She has over 20 years' experience of environmental and consent management within the international energy sector, both as a developer and within environmental consultancy. The last ten years have seen her increasingly been involved in offshore and onshore renewable projects